As with any aerobic activity, running becomes more comfortable when you have clothing that keeps you properly ventilated or—in cold and wet conditions—lightly insulated and dry. What we need to wear?
Socks
So you've invested in a good pair of running shoes. Don't put your wallet away just yet – it's just as important to wear the right socks to prevent blisters. Specialist running socks are ideal – they're designed to keep your feet warm, dry and blister-free. Avoid socks with toe seams, as these can cause blisters. Some socks, such as 1000 mile socks, have been designed to prevent blisters by reducing friction. Socks with extra padding around the heel and ball of the foot will of course give extra cushioning and warmth.
Shorts
Running shorts made of supple nylon are ideal. They are light, soft, allow airflow and you'll avoid any rubbing or sore spots, plus they are shaped to give complete freedom of movement. Some runners prefer tight lycra shorts, like those worn by sprinters, to prevent chafing and provide support. 'Skorts' are becoming increasingly popular among female runners.
Vest/T-shirt
As we explained in Basic principles, it's best to avoid cotton. Many runners wear Polypropylene vests and t-shirts. This man-made fabric is lightweight even when wet and wicks sweat away from the skin to the outer layer of the garment where it can evaporate, keeping you comfortable and dry. I look out for ones made from recycled materials – Patagonia make some good ones.
Base layer/long sleeve top
Again, many people wear Polypropylene long sleeved tops. You can buy these in different thicknesses. Other people prefer natural wonder-fibre, Merino wool. There are pros and cons to both fabrics, for example Polypro wicks well but is prone to smelling. Merino is warm when wet but is usually more expensive.
Legwear
If it's cold, running tights are an ideal choice. Supportive and stretchy, they won't dangle in the mud or puddles and they won't chafe. Some men prefer to wear shorts over the top so they look less like tights!
Winter weight tights are also available – these have a thermal fleece lining and sometimes windproof panels for added insulation.
Jackets
Lightweight, showerproof and wind resistant jackets are very useful for running. They are usually made from Ripstop Nylon or the mor expensive Pertex. You may also wish to buy a lightweight waterproof-breathable jacket. Something made from Gore-Tex's latest fabric, lightweight Active shell, or similar would be ideal.
Gilets
A popular, lightweight alternative to a weatherproof jacket is a sleeveless gilet. They are great for milder winter days when worn over a long sleeve. One downside is that you can't tie them round your waist if you get too hot.
Hat/Gloves
Covering the hands and the head is essential in cold conditions. It's well-documented that most heat loss occurs in these areas. Fleece hats and gloves are very warm and often wind resistant. Buffs are very versatile and useful – they can be folded into headbands, hats, scarves and so on.
Running clothing options include, pants, tights, shorts, shirts, vests and jackets. The weather outside determines what combination of these items you need to stay comfortable on your road and trail runs.
Warm-weather running clothes: For warm days, your running clothes should help wick away moisture, keep you cool and protect you from the sun's rays. Shorts, a shirt and socks might be all you need on a warm day.
Winter running clothes: When the temperature drops, consider wearing pants or tights, and a vest or soft-shell jacket, but remember that you will warm up once you get moving. Insulated versions of these items are ideal for winter activities.
Thumbholes: Many long-sleeve tops for cool-weather days offer thumbholes to increase hand coverage and warmth so you can possibly skip the need for gloves. They also help to keep sleeves in place as you run. A few styles even have mittens built into the sleeves.
Inner liner: Some running shorts include an inner liner that acts as underwear. The liner wicks moisture and dries fast to prevent chafing.
Compression: Some shorts, tights, shirts and socks for running are designed with compression for a very snug fit.
Packable: Some running jackets and vests pack away into their own pocket for compact storage.
Insulated: Lightly insulated styles provide a bit more warmth with minimal weight.
Chafe-free seams: Look for flat or welded seams placed away from areas that could impede your stride or natural running motion.
Mesh vents: Many tops are augmented with cooling mesh panels for high-heat areas such as your back, underarms and sides.
Reflectivity: If you run at night or in the cool hours of dusk or dawn, you'll want gear with reflective accents to be better seen by drivers.
Pockets: These can unobtrusively hold your ID card, debit card and keys. Common on shorts, concealed pockets are sometimes offered on shirts as well.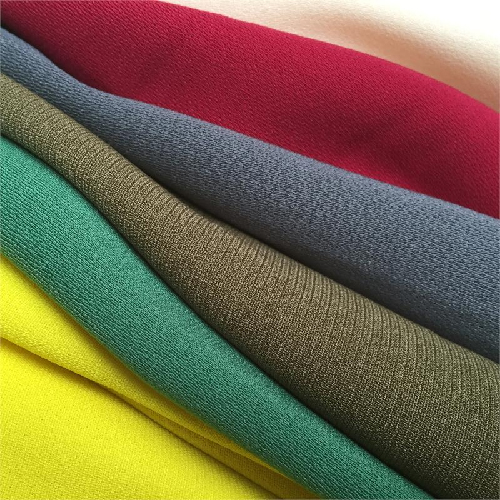 Running Clothing Accessories. Don't forget your head and extremities for overall comfort.
Hats
Your exposed head responds to changes in temperature more quickly than any other part of your body. It's easy to carry along a fleece or wool hat for winter workouts to cover your head in cold weather. A breathable, lightweight hat can also help you stay cool in summer.
Gloves
For cold-weather exercise, a pair of moisture-wicking, breathable gloves is advisable. For cool conditions, thin liner gloves may be all that you need.
Socks
When you exercise heavily, your feet produce a lot of perspiration. This can lead to blisters unless you wear synthetic or merino wool socks that wick away moisture. In winter, this moisture can lead to cold feet. Avoid cotton socks for all but light workouts.