You are having upcoming event and still confuse what to wear? That's what (almost) every woman feels! There are lots of fabric options you can choose to make your stunning. So, how to choose the right one? To help you with your mission to have a perfect dress, we have selected the top 3 best fabrics to assist you in your mission. Different fabrics suit different silhouettes and cuts. Remember to consider your fabric very carefully, to ensure that it is the right one for your perfect dress.
1. Velvet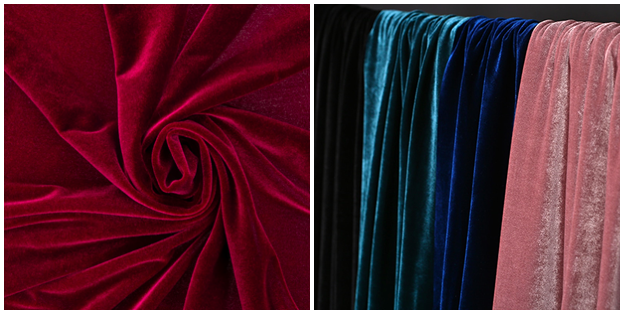 Velvet is a type of woven tufted fabric in which the cut threads are evenly distributed, with a short dense pil, giving it a distinctive soft feel. The quality, shine, the depth, the richness, all make this fabric perfect for a sexy, vampy, feminine dress.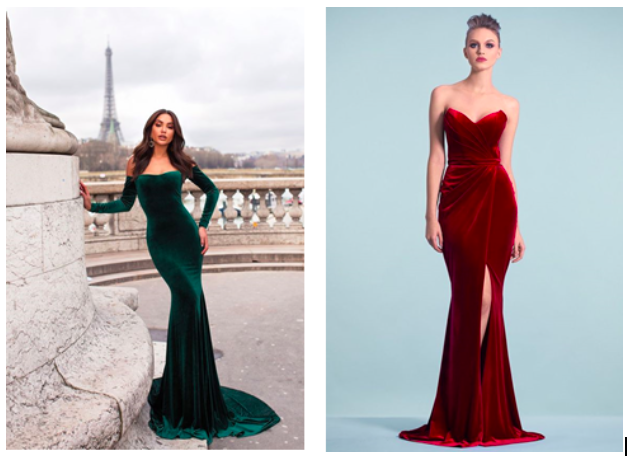 Velvet made with synthetic materials is generally quite inexpensive. Velvet fabric that is woven with care using sustainable materials will always cost more than fabric that was made cheaply using synthetic textiles.
2. Chiffon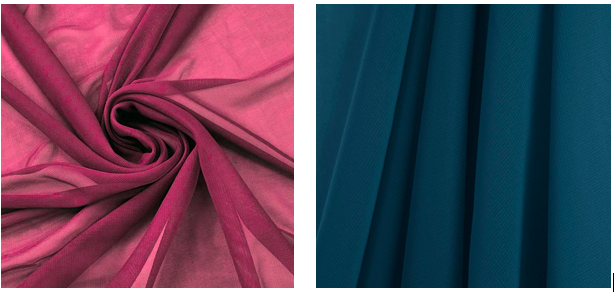 Chiffon is synonymous with elegance in the fashion world. It has a lightweight texture and a semi-mesh weave which is what gives the fabric a chic transparent appearance, as well as making it slightly rough to the touch.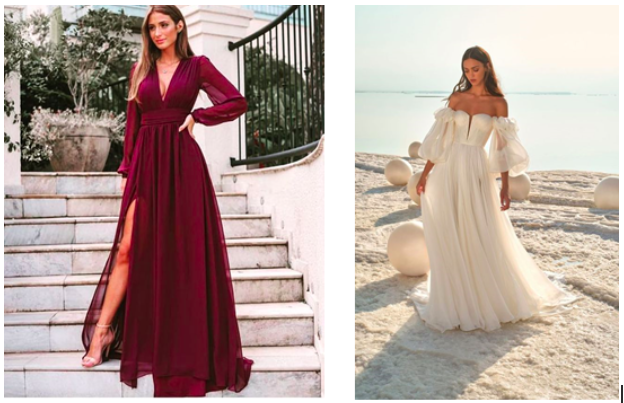 Chiffon is often used to add an essence of elegance to a dress. Gowns and wedding dresses commonly have a chiffon overlay to give the dress a floating appearance and an element of luxury. Because of the light and airy feel of chiffon, it's also used for decorative scarves or for blouses. Chiffon is also used in shirts, scarves and lingerie for similar reasons.
3. Satin
Satin is a soft, shiny fabric often used for fancy dresses. A satin weave can comprise many types of fabrics, and its uses number beyond bridesmaid dresses and gowns. Satin is a type of soft silk satin fabric that is woven using the filament fiber technique so that it has the characteristics of a shiny surface.
Satin is the choice or solution to get a look that looks luxurious and elegant, but coupled with a more affordable price. It also has an average quality that is quite good and durable for long-term use, easy to clean and shape.
4. Crepe
Crepe yarn is made with a process called hard twisting, which involves twisting the textile fibers used in yarn manufacture much tighter than usual. Crepe is a silk, wool, or synthetic fiber fabric with a distinctively crisp, crimped appearance. It known for its crinkled, or pebbled texture. This effect gives the fabric a lot of character, and, combined with its soft handle and stunning drape.
Crepe is most commonly used in high fashion and other types of decorative apparel design. Crepe has a unique light, textured profile that makes it highly useful in flowing, airy garments.
5. Linen
Linen cloth is one type of fabric made from natural fibers of the Hemp plant (Boehmeria Nivea). This is a type of cotton fabric that has the characteristics of large fiber yarns and is clearly visible. Linen fiber is also believed to have better endurance than other types of cotton fabrics. Linen is very strong and absorbent, and dries faster.
Because of these characteristics, linen is comfortable to wear in hot weather and is valued for use in garments. Linen is one type of high-quality fabric, this fabric has a smooth, neat surface and it is a breathable fabric, so it can make air circulation more smoothly.